EXPERT OPINION & NEWS AS IT HAPPENS
From Wikipedia :
OSx86 (from Mac OS X and x86) is a collaborative hacking project to run the Mac OS X computer operating system on non-Apple personal computers with x86 architecture and x86-64 compatible processors. The effort started soon after the June 2005 Worldwide Developers Conference announcement that Apple would be transitioning its personal computers from PowerPC to Intel microprocessors.
A computer built to run this type of Mac OS X is also known as a Hackintosh,a portmanteau of the word "hack" and the name of Apple's main brand of computers, Macintosh. Hackintoshed notebook computers are also referred to as "Hackbooks".
We have heard of people getting OS X 10.6.8 and newer to run on Dell hardware (optiplex 755)
Apparently on a Dell Optiplex 755 you dont need to modify too much to make the machine run smoothly, though the legality of running OS X on non apple hardware is questionable.
Its a whole new world of Hacking out there and some people do feel the rewards are worth the effort.
We shall be watching to see how the hackers go with OS X 10.7 Lion whose release is imminent.
Watch this space for news on Hackintosh in the near future.
These days' computers are used for just about everything so most of us tend to have or use more than one computer.
For Families and businesses adding more machines can be a considerable cost and these machines may not be required to do very much but they are none the less required.
We are selling name brand named (Dell,HP,IBM,NEC) machines and providing our clients with a source of top quality machines with licensed software at unbeatable prices.
From B 2500 you can get a machine with a licensed copy of windows XP professional SP3
Laptops are available from as little as B 4200 also complete with licensed windows XP professional SP3
Core 2 Machines are available from as little as B 5500 with a licensed copy of Windows XP professional SP3
Call 0 800 300 400 now for details or email [email protected]
Dune HD Smart D1 Media Player
The Dune-HD just stands out. Not only does it outperform any other media player out there, it adds new features regularly with frequent firmware updates.
The Dune HD Smart D1 is feature rich and is capable of playing back just about any video or audio format available today.
Main features:
Price: Around B 10,000
The newest Sigma Designs 8642/8643 media processor: enjoy excellent playback and performance of interactive features.
HDD player: connect an HDD to the player and play content directly from the HDD.
Network player: connect the player to a local network and play content directly from PC or NAS (UPnP, SMB, NFS).
MKV player: play HD and SD video in a popular MKV format and other modern video file formats, including top quality HD video with very high bitrate.
RealD: watch 3D video in this ultra modern format used in cinema for the latest movies.
HD audio: enjoy top-quality audio tracks (Dolby True HD, DTS HD Master Audio, LPCM, FLAC).
3 USB ports: conveniently connect HDDs, USB flash drives, USB card readers and other USB storage devices.
eSATA port: connect an HDD via the most efficient eSATA interface.
Internal HDD option: use an optional 3.5″ SATA HDD installed directly inside the player.
USB slave port: easily and quickly transfer files between the HDD in the player (when installed) and a PC.
SD card slot: easily play media files on SD memory cards from your camera or other devices, or use an SD memory card as a local or system storage (required for BD Live function).
HDMI 1.3: ensure the best possible quality of HD video and HD audio.
A rich set of standard A/V connectors: use S/PDIF optical audio, stereo audio, component video, composite video outputs to easily connect any A/V equipment.
Flexible support for Dolby True HD and DTS HD Master Audio: output as bitstream or decode to LPCM for flexibility when connecting audio equipment.
Video output flexibility: output video in any resolution and format (from SD to 1080p, 24p/PAL/NTSC).
Upscaling: high quality upscaling of DVD and any other SD video content to Full HD (1080p) or other HD resolution.
File browser: convenient file browser with powerful file management (copy, move, delete, rename, organize, sort).
The best basis for multi-component Dune HD Smart system: built-in VFD display helps to build the most feature-rich solution.
Specification:
Processor: Sigma Designs 8642/8643
RAM: 512 MB
Flash memory: 128 MB, expandable with a HDD partition, USB flash drive, or SD card (2GB recommended)
Media sources: internal HDD (SATA 3.5"), external HDD (USB, eSATA), external optical drive (USB, eSATA), USB devices (USB flash drive, USB card reader, etc), built-in SD card reader (SD/SDHC), PC and NAS in local network (SMB, NFS, UPnP, HTTP), other Internet and local network media sources (HTTP, multicast UDP/RTP)
Video codecs: MPEG2, MPEG4, XVID, WMV9, VC1, H.264; support for very high bitrate video (up to 50 MBit/s and higher)
Video file formats: MKV, MPEG-TS, MPEG-PS, M2TS, VOB, AVI, MOV, MP4, QT, ASF, WMV, Blu-ray-ISO, BDMV, DVD-ISO, VIDEO_TS
Optical disc formats: data discs (CD/DVD/BD) (MP3, JPEG, etc), Audio CD (PCM/DTS), DVD-Video (retail and user-authored discs), Blu-ray (retail and user-authored discs) *
Blu-ray playback: Blu-ray menu, BD-J, BonusView, BD-Live – for both Blu-ray discs (retail and user-authored) (*) and full Blu-ray structures (Blu-ray-ISO, BDMV) played from HDD and network
Video output modes: wide range of supported output resolutions (up to 1080p) and framerates (including 23.976p, 24p, PAL, NTSC)
Video output framerate: automatic (according to the played content) and manual
Audio codecs: AC3 (Dolby Digital), DTS, MPEG, AAC, LPCM, WMA, WMAPro, EAC3 (Dolby Digital Plus), Dolby True HD, DTS HD High Resolution Audio, DTS HD Master Audio, FLAC, multichannel FLAC, Ogg/Vorbis; support for very high quality audio (up to 192 kHz / 24-bit)
Audio file formats: MP3, MPA, M4A, WMA, FLAC, APE (Monkey's Audio), Ogg/Vorbis, WAV, DTS-WAV, DTS, AC3, AAC
HD audio support: pass-through (up to 7.1 channels) and decoding (up to 7.1 channels) of Dolby TrueHD and DTS HD MA audiotracks (Blu-ray, TS, MKV), pass-through (up to 7.1 channels) of multichannel LPCM audiotracks (Blu-ray, TS, MKV), decoding (up to 7.1 channels) of FLAC audiotracks (MKV, external)
Subtitle formats: SRT (external), SUB (MicroDVD) (external), text (MKV), SSA/ASS (MKV, external), VobSub (MP4, MKV, external SUB/IDX), PGS (Blu-ray, TS, MKV)
Picture file formats: JPEG, PNG, BMP, GIF
Playlist file formats: M3U, PLS
Photo viewer functions: slideshow, transition effects, picture rotation, zoom, browse playlist, repeat, shuffle
Audio playback functions: browse playlist, repeat, shuffle, ID3 tags, plasma TV burn-in prevention
Filesystems: FAT16/FAT32 (read-write), EXT2/EXT3 (read-write), NTFS (read-write)
Ethernet: 10/100 Mbit
WiFi: optional 802.11n WiFi (via an external USB WiFi stick, not included, D-Link DWA-140 recommended)
Dune Network Playback Accelerator: special optimizations ensuring best-in-class network playback performance for the Sigma Designs 864x platform and enabling smooth playback of any supported kind of media content via any network protocol (including NFS and SMB) even in 100 Mbit/s Ethernet networks.
Other features:
High-quality music playback: play very high-quality (up to 192 Khz / 24-bit) music files in various formats (FLAC, Monkey's Audio APE, WAV/PCM, DTS, etc).
Playlists: build playlists from your folders, use your own playlists, use repeat and shuffle functions.
NAS function: access files on storage devices (HDD, optical drive, etc) attached to the player from the local network (using SMB or FTP).
BitTorrent: use built-in BitTorrent client to download files from P2P networks.
Customizable user interface: work with media collections using cover art and icon browsing (with Full HD graphics).
Flash applications: extend the player functionality with FlashLite applications.
Internet radio: playback and record various Internet radio stations (HTTP/MP3).
IPTV: playback and record IPTV streams (multicast UDP/RTP) from your Internet provider (check availability of multicast UDP/RTP streams with your Internet provider).
Digital TV option: playback and record Digital TV channels using an optional Digital TV USB dongle (Digital TV USB dongle is not included; this option can be purchased separately).
Internet browsing: view Internet Web sites on your TV using the built-in Web browser (built-in Web browser has limitations and may not allow to view some Internet Web sites).
Modular System Support: Dune HD Smart players allow to create custom configurations based on the primary (head) unit like Dune HD Smart B1/H1/D1 and several optional extension modules of choice, which can be combined to form an integrated player.
Hardware:
The Dune HD Smart D1 came with HDMI cable, IR Remote w/ 2 batteries, and composite cables.
Looking at the front of the D1 much of the area is taken up by an LCD screen. Below the LCD screen is the power button, IR receiver, SD slot, USB input, and eject button (for use with the option BluRay Drive module)
From the back you can see the LAN port (10/100/1000), 2 USB 2.0 ports, Composite/Component outputs, HMDI out, Optical, eSATA, USB Slave, and the power input.
The Smart D1 is about 2.5 inches tall, 5.5 inches wide and 11 inches deep (the depth is in part to allow for an internal hard drive if desired)
With the case removed you can see the tray for an internal drive as well as the Sata connector. Also, you can see that there is no case fan, so the D1 will operate silent.
If you remove the HDD tray you can get a better view of the board. In the center of the board is a USB input. If you plan on using system storage (which we highly recommend, it is needed to add shortcuts to the Main menu as well as BD Live) this is a convenient area to attach a USB thumb drive. A simple set it and forget it.
A 4GB USB thumb drive installed. As long as the thumb drive does not have any excess bulk it should fit without issue.
Overall the Dune Smart D1 is a solidly built machine. It may be a little deeper then some would like but otherwise has a very small footprint. At no point did we notice any sort of over heating issues.
UI Appearance:
The UI on the Smart D1 is identical to the BD Prime . Although not horrible the UI is still very basic, with a windows explorer type experience while navigating through your media. This is hopefully an area that HDI addresses as more and more media players in the market are getting away from the boring stock UI that we have become accustomed to. Simply allowing the Dune to boot directly into a 3rd party jukebox would at least provide a quick and effective solution.
Responsiveness:
Navigating around the UI on the Smart D1 was the same as with the Dune BD Prime. One thing we noticed is that on a few occasions the D1 became unresponsive for a short period of time. we don't know if the unit itself became unresponsive or if the issue was possibly with the IR receiver.
Network Performance:
The Dune HD Smart D1 is listed as Gigabyte but it is not recommended to use this. This  is the same issue that plagues the PCH C-200, however unless you are transferring files to/from the Dune over the network 10/100 is plenty fine for streaming media. As with the BD Prime testing out network performance over smb  , we did not have any issues playing back all our high bitrate content on the Smart D1. We did have Fast SMB enabled and I believe it is recommended that all users who play content over the network enable this feature in the settings.
Audio/Video Playback:
We decided to test playback using the latest Dune IP beta firmware 101029 2349, which can be found here. Here is a description of what we tested and the results:
mkv w/ chapters – not supported (PASS)
mkv w/ 480p internal IDX/SUB subtitles  (PASS)

mkv w/ 1080p internal IDX/SUB subtitles (FAIL)

mkv w/ internal PGS subtitles (PASS)
HD Audio downmix to stereo (PASS)

mkv w/ forced subtitles – the Smart D1 does not respect the forced subtitle flag(FAIL)
mkv/(m2)ts with DTS(MA) – bitstreamed without issue (PASS)
mkv/(m2)ts with TrueHD Audio Track – bitstreamed without issue (PASS)
mkv w/ VC-1 encoded video – played without issue (PASS)
Forced Subtitles in a BluRay Structure – played without issue (PASS)
BluRay ISO (main movie only) – played without issue (PASS)
BluRay Folder (entire disc) – played movie with full menu support (PASS)

DVD ISO and/or Folder Structure – played with full menus (PASS, also appears an issue with audio stuttering has been corrected)
1080p quicktime (.mov) trailer – played without issue (PASS)
avi/mpeg/m4v clips – played without issue (PASS)
mkv w/ FLAC – played w/ multi channel PCM (PASS)
mkv w/ header compression – played without issue (PASS)
We were disappointed that mkv chapter support has still not been addressed, as this should be a very basic feature to implement and one that many other players on the market supports. That combined with support for forced subtitles in mkvs (which slowly players are starting to support) would provide a complete solution for the many mkv users out their.  Overall  once again the Smart D1 hit a home run playing back my various test files.
Online Content:
When it comes to online content there is currently very little offered. We noticed a new icon showed up recently on the Main Menu called Kartina.tv which we had never heard of (from reading around it appears to be a site for accessing Russian TV.
Final Thoughts:
Just as with the Dune BD Prime the Smart D1 lived up to expectations. From a hardware standpoint it is very well constructed, fanless, and quiet. Undoubtedly when it comes to local video playback, the Smart D1 not only does it but it does it well, and we would say that for local video content the Dune is amongst the best out there. Like many of the other media players out there music and photos is a weak spot, and if that is an important area then I would recommend looking at the Apple TV 2 . With the expanded lineup across a variety of price ranges this should as well open up the Dune to a wider consumer base.
The challenge that will present the Dune players is how they evolve in the coming year(s). Online content (such as Netflix) is becoming more important (emphasis on the U.S market), and if more media players continue to add online content Dune runs the risk of being left behind. There is also Cinavia looming and the question of how it will impact the current and future Dune players. A simple solution for the bland stock UI would be to more tightly integrate the 3rd party jukeboxes into the UI (the easiest way would be to allow the user to have the Dune load directly into the jukebox of their choice).
Overall they have a winner with the Smart D1 and others in the Smart series. Continued work should be focused on forging online content partnerships, enhancing the stock UI, and bringing new features to their players (such as source direct, mkv chapter support, and mkv forced subtitle support to name a few).
Overall the Smart D1 does not disappoint.
Can I watch services like BBC iPlayer and SkyPlayer from outside the UK?
The short answer is YES!
Due to broadcasting restrictions within the UK and other countries, some website content cannot be broadcast outside the UK. This is obviously a problem for the expatriate community living outside the UK, as these services will be unavailable to them. However, the Internet is not bound by the same regulation.
We offer you the best all round solution that provides not only access to country locked services, but also complete privacy and security to protect all your internet activities whatever they may be.
Introducing Identity Cloaker
Identity Cloaker is not a "Free Proxy Server Service".
Identity Cloaker is not some rubbish free proxy service that hands you a huge list of so called free proxy servers, that are either overloaded, not working, or even infected by viruses and other nasty stuff. We do not rely on rubbish and neither should you! Instead, IdentityCloaker.com operates its own growing network of private servers around the world.
It's also important to note that free proxy servers are not usually free at all. In most situations the administrators of the physical server computers do not even know they are running a proxy server. They simply either misconfigured some proxy server software they intended to install for their own needs, or their server had been compromised by a hacker who then installed such a proxy server software and probably caused some more evil along the way.
There are also reports of some free proxy servers being directly owned by the bad guys. They may be owned by hackers operating on their own, and sometimes even in organized gangs. They use such free proxy servers as a lure that helps them in phishing attacks, gather your web surfing habits, steal your sensitive information sent through such servers etc. The risk is too high!
Situation 1 – Browsing the web without Identity Cloaker: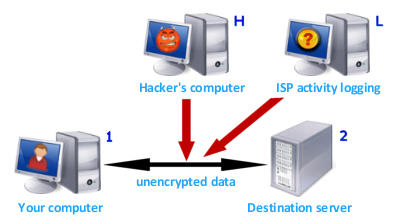 You visit a website – let's call it something.com from your computer, your computer sends a request tosomething.com and retrieves the data sent back from it. This is actually an oversimplification but generally, it's how it works. The data on the whole path of the communication between you andsomething.com is normally unencrypted (unless secure https/ssl connection is used). Something.com can easily discover your physical location by reading your IP address. And the part of the communication between you and your Internet Service Provider is vulnerable to data eavesdropping.
Situation 2 – Browsing the web with Identity Cloaker: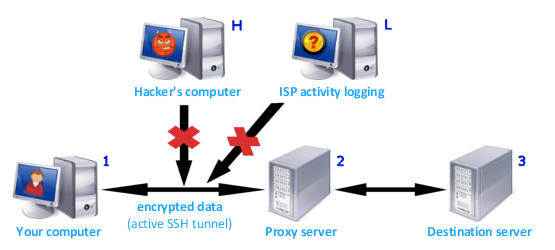 You visit a website – again, let's call it something.com. The request is sent through the established encrypted secure tunnel to the chosen Identity Cloaker proxy server. This is done in the background – you do not even have to know about it. The proxy server then sends the request to something.com on your behalf receives the answer and forwards it back to you – again through the encrypted secure tunnel. At all time, something.com was communicating with the proxy server and does not even know about you! The proxy server works as the middleman.
Try it now !
Summary
Dropbox offers a way to synchronise files between all the computers you own. It also enables you to share folders with other dropbox users – great for families, students, and project managers alike.
---
The first computer
After a painless signup process and installation of the software, a dropbox folder is placed on your computer in a location of your choice. From that moment on, every file saved, moved or copied to your dropbox is uploaded to the dropbox server. This enables you access to these files from anywhere in the world, by simply loading up a web browser and logging into your account. This in itself is handy, especially as you get 2Gb of space for free, but it's when you start getting other computers and other people involved that things start to get fun…
The second computer (and third, and fourth, and fifth, and….)
Once you have dropbox installed on your first computer, you can install it on every other computer you use. For every computer you have dropbox installed on, a duplicate will be made of your data. And when you change any file on any computer, the file is updated on every computer that dropbox is installed on. This means I can be working on a word document on the comfort of my desktop computer at home, then when i get to the office i can work on the same document on the computers there.
Inviting others to the party
As an IT Service provider, we often need to share rapidly changing files with our clients, as well as our techs and occasionally external contractors. Previously this would have involved hundreds of emails flying about, and almost always end up with some people not working from the latest version. These days, managing a project between people is dead easy. I simply create a folder for the project, and invite my colleges to join in. From this point any files added to the folder are available for all of us to see and edit. And should any of us stuff something up so bad as to be unsalvageable, dropbox handily keeps every version of every file you have on its servers (for up to 30 days on a free account, or forever if you upgrade to a larger package), so you can revert to a previous version of the file.
This feature can also be handy if you want to share folders full of photos with family members etc…
The bad bits?
So, the review has been pretty glowing so far. With every good there has to be some bad, right? Well, yes there are a few minor niggles. One of these is the paid packages available to choose from. Your free account gives you 2Gb of space, and you can increase this quota to up 8Gb by referring friends.
After that you have to start paying. Currently the only options available are 50Gb for $9.99 per month, or 100Gb for $19.99 per month. If you were a large firm wanting to roll out dropbox to all your employees, I can imagine that 100Gb may not be enough. On the other side of the coin, 50Gb is too much for some people.
The only other disadvantage is that it is currently only available for Intel/AMD based systems. A lot of network servers and newer portable devices are based on PowerPC and ARM chipsets. While this isn't a problem for your average user, it can make the decision of weather to use dropbox in a corporate environment or not a tricky one.
On the other hand, there are apps for accessing your dropbox files from iPhone and Android based devices.
You can sign up for a dropbox account and join in the fun here.
Running Google Apps is very cost effective, especially if you are running 10 or less email accounts.  Below I have outlined 7 different reasons why Google Apps should be considered for small business use.
Reason #7 Maintenance
With Google Apps, Google handles all the maintenance.  I personally have not seen any downtime; the updates are pushed out seamlessly.  This also has to do with cost savings, plus all the hassle of updating the software if I were to manage it.
Reason #6 Collaboration
Here's a common scenario prior to implementing Google Apps: a document was worked on by someone, emailed to a colleague, who sent another revision to someone else, who ended up making a few changes and sending the wrong updated copy by mistake…. this can get very frustrating.  Google Docs fixed that issue.  With Google Docs, users can simultaneously edit documents in real-time, eliminating the previous issue of multiple versions of a document.
Reason #5 Features and Upgrades
Google handles the entire backend part of the updates and they are literally seamless to the end user.  As features become requested, Google implements the most suggested features.  If you are not satisfied with a part of Gmail, Google also allows people to make "labs" which are minor tweaks.
Reason #4 Accessibility
With Google Apps, you can take your calendar, documents, and email everywhere you go with you simply because it is on the cloud.  By having everything on the cloud, you can virtually use those services anywhere with an internet connection.  There are also apps for most smart phones that allow you to sync your calendar, inbox, and contacts as well.
Reason #3 Ease of Use
Google has invented software that is very user friendly.  The average user can use Google Apps without a bunch of training.  I'm not saying that training isn't needed to use Google Apps effectively, however, users just seem to get Google Apps.
Reason #2 Cost
If you  are running 10 or less users Google Apps is completely free!   If you have more users than that I would argue that it is worth the $5/user per month.  Hosting your own mail server has many costs involved; electricity, dedicated Internet, network administrators, maintenance, and sometimes even licensing.  When you add all those costs up, it just seems to make sense.  Factor in the reliability, accessibility, collaboration, and the #1 reasons I recommend Google Apps (spam filtering), and Google Apps seems to be a necessity.
Reason #1 Spam Filtering
Google has developed a very good way to filter spam.  In fact, I would argue they currently have the best filtering algorithms created that produce false positives so infrequently that the old norm of checking your spam folder for good messages is a thing of the past.  I receive about 150 messages per day and after using Gmail for the past year and a half, I have had maybe two messages get passed the spam filter.  Overall, the Gmail spam filter just makes sense.
Some of our Readers had asked about features now removed from windows 7 that were available in windows Vista.
Below is a quick list of features that are gone from Windows 7:
Classic Start menu user interface
Advanced search
Combined taskbar buttons no longer numerically show how many window are in their stack
The Invert selection menu item has been removed from the Edit menu of Windows Explorer
The Taskbar network icon does not show network activity animation
Floating Deskbands (was deprecated in Windows Vista, now deskband can be only pinned to taskbar)
Windows Media Player Mini-player (replaced with the new Jump list feature)
Pinning default Internet Browser and E-mail client software programs on Start menu by default (programs can be manually pinned)
The ability to disable grouping (placing next to each other) similar taskbar buttons
Windows Photo Gallery, Windows Movie Maker, Windows Mail and Windows Calendar (in favor of downloading or using online the free respective Windows Live counterparts, which lack some features) although the Photo Viewer module of Windows Photo Gallery has been retained.
Software Explorer feature of Windows Defender
Microsoft Agent 2.0 Technology
Windows Sidebar (replaced with Desktop Gadget Gallery)
Windows Ultimate Extras in the Ultimate edition
Removable Storage Manager (applications dependent on it, such as NTBackup or the NTBackup Restore Tool, cannot run)
Windows Meeting Space
InkBall, a game
The numeric keypad from On-Screen Keyboard
Compare Windows 7 Editions (32-bit and 64-bit versions of Windows 7)
| | | | | | | |
| --- | --- | --- | --- | --- | --- | --- |
| | Starter | Home Basic | Home Premium | Professional | Ultimate | Enterprise |
| | | | | | | |
| 32-bit and 64-bit versions | 32-bit only | Both (64-bit disc not included) | Both | Both | Both | Both |
| AAC and H.264 decoding | Yes | Yes | Yes | Yes | Yes | Yes |
| Accessibility | Yes | Yes | Yes | Yes | Yes | Yes |
| Action Center | Yes | Yes | Yes | Yes | Yes | Yes |
| Aero Glass Remoting | | | | | Yes | Yes |
| Aero Peek | | | Yes | Yes | Yes | Yes |
| Aero Shake | | | Yes | Yes | Yes | Yes |
| Aero Snap | Yes | Yes | Yes | Yes | Yes | Yes |
| Aero Theme | | | Yes | Yes | Yes | Yes |
| AppLocker | | | | Create Policies, But Cannot Enforce | Create and Enforce Polices | Create and Enforce Polices |
| Audio Recording over Terminal Services | | | | | Yes | Yes |
| Backup and Restore Files | Yes | Yes | Yes | Yes | Yes | Yes |
| Backup to Network | | | | Yes | Yes | Yes |
| Bitlocker Drive Encryption | | | | | Yes | Yes |
| Bitlocker To Go | | | | | Yes | Yes |
| Bluetooth suppport | Yes | Yes | Yes | Yes | Yes | Yes |
| Branche Cache Distributed Cache | | | | | Yes | Yes |
| Calculator | Yes | Yes | Yes | Yes | Yes | Yes |
| Compatibility Mode | Yes | Yes | Yes | Yes | Yes | Yes |
| Desktop Background Changeable | | Yes (No Personalization – Only with "Set as desktop background" in Context menu) | Yes | Yes | Yes | Yes |
| Desktop Windows Manager | | Yes | Yes | Yes | Yes | Yes |
| Device Stage | Yes | Yes | Yes | Yes | Yes | Yes |
| DirectAccess | | | | | Yes | Yes |
| Disk Defragmenter | Yes | Yes | Yes | Yes | Yes | Yes |
| Disk Defragmenter (Automatic) | Yes | Yes | Yes | Yes | Yes | Yes |
| Display Language | | | | | Yes | Yes |
| Dolby Digital compatibility | | | Yes | Yes | Yes | Yes |
| Domain Join (Windows Server) | | | | Yes | Yes | Yes |
| DVD playback | | | Yes | Yes | Yes | Yes |
| Dynamic Disks | | | | Yes | Yes | Yes |
| Encrypting File System (EFS) | | | | Yes | Yes | Yes |
| Encrypting Offline Files | | | | Yes | Yes | Yes |
| Enterprise Search Scopes | | | | | Yes | Yes |
| Fast User Switching | | Yes | Yes | Yes | Yes | Yes |
| Federated Search | | | | | Yes | Yes |
| Gadgets | Yes | Yes | Yes | Yes | Yes | Yes |
| Games Explorer with basic games (FreeCell, Hearts, Minesweeper, Purble Palace, Solitaire, Spide Solitaire) | Yes | Yes | Yes | Yes | Yes | Yes |
| Games Explorer with premium games (Internet Backgammon, Internet Checkers, Internet Spades, Mahjong Titans) | | | Yes | Yes (disable by default) | Yes | Yes (disable by default) |
| Getting Started | Yes | Yes | Yes | Yes | Yes | Yes |
| Group Policy | | | | Yes | Yes | Yes |
| HomeGroup | Join Only | Join Only | Yes | Yes | Yes | Yes |
| IIS Web Server | | | Yes | Yes | Yes | Yes |
| Internet Connection Sharing | | Yes | Yes | Yes | Yes | Yes |
| IE8 Protected Mode and DEP | Yes | Yes | Yes | Yes | Yes | Yes |
| Internet Explorer 8 | Yes | Yes | Yes | Yes | Yes | Yes |
| Jump Lists | Yes | Yes | Yes | Yes | Yes | Yes |
| Keyboard Input Language | Yes | Yes | Yes | Yes | Yes | Yes |
| Language Packs (MUI) | | | | Yes, purchased separately | Yes | Yes |
| Libraries | Yes | Yes | Yes | Yes | Yes | Yes |
| Live Explorer Previews | | | Yes | Yes | Yes | Yes |
| Live Taskbar Previews | | Yes | Yes | Yes | Yes | Yes |
| Location and other sensors support | | | Yes | Yes | Yes | Yes |
| Location Aware Printing | | | | Yes | Yes | Yes |
| Max RAM (32-bit) | 4GB | 4GB | 4GB | 4GB | 4GB | 4GB |
| Max RAM (64-bit) | | 8GB | 16GB | 192GB | 192GB | 192GB |
| MPEG-2 decoding | | | Yes | Yes | Yes | Yes |
| Multi-Display Terminal Services | | | | | Yes | Yes |
| Multiple Monitors | | Yes | Yes | Yes | Yes | Yes |
| Multi-Touch support | | | Yes | Yes | Yes | Yes |
| Network and Sharing Center | Yes | Yes | Yes | Yes | Yes | Yes |
| Network Bridge | | Yes | Yes | Yes | Yes | Yes |
| Network Printing | | Yes | Yes | Yes | Yes | Yes |
| Offline Files | | | | Yes | Yes | Yes |
| Paint | Yes | Yes | Yes | Yes | Yes | Yes |
| Parental Controls | Yes | Yes | Yes | Yes | Yes | Yes |
| Personlization | | | Yes | Yes | Yes | Yes |
| Play To | Yes | Yes | Yes | Yes | Yes | Yes |
| Power Management | Yes | Yes | Yes | Yes | Yes | Yes |
| 64-bit Processor Support | Yes | Yes | Yes | Yes | Yes | Yes |
| Physical Processor Support | 1 | 1 | 2 | 2 | 2 | 2 |
| Presentation Mode | | | | Yes | Yes | Yes |
| Previous Versions | Yes | Yes | Yes | Yes | Yes | Yes |
| Processor Core Support | Unlimited | Unlimited | Unlimited | Unlimited | Unlimited | Unlimited |
| Projector Connection Switching | Yes | Yes | Yes | Yes | Yes | Yes |
| ReadyBoost | Yes | Yes | Yes | Yes | Yes | Yes |
| ReadyDrive | Yes | Yes | Yes | Yes | Yes | Yes |
| Remote Desktop Client | Yes | Yes | Yes | Yes | Yes | Yes |
| Remote Desktop Host | | | | Yes | Yes | Yes |
| Remote Media Streaming | | | Yes | Yes | Yes | Yes |
| RSS support | Yes | Yes | Yes | Yes | Yes | Yes |
| SMB Network Connections | 20 | 20 | 20 | 20 | 20 | 20 |
| Snipping Tool | | | Yes | Yes | Yes | Yes |
| Software Restriction Policies | | | | Yes | Yes | Yes |
| Startup Repair | Yes | Yes | Yes | Yes | Yes | Yes |
| Sticky Notes | | | Yes | Yes | Yes | Yes |
| SuperFetch | Yes | Yes | Yes | Yes | Yes | Yes |
| Switch User | | | | Yes | Yes | Yes |
| Sync Center | Yes | Yes | Yes | Yes | Yes | Yes |
| System Image Backup | Yes – Not to network location | Yes – Not to network location | Yes – Not to network location | Yes | Yes | Yes |
| System Restore | Yes | Yes | Yes | Yes | Yes | Yes |
| Tablet PC support | | | Yes | Yes | Yes | Yes |
| Number of TV tuners supported | | | 4 of each type (analog, digital, etc.) | 4 of each type (analog, digital, etc.) | 4 of each type (analog, digital, etc.) | 4 of each type (analog, digital, etc.) |
| UAC – User Account Control | Yes | Yes | Yes | Yes | Yes | Yes |
| UNIX based applications subsystem | | | | | Yes | Yes |
| VHD – Boot from | | | | | Yes | Yes |
| VHD – Create and Attach | Yes | Yes | Yes | Yes | Yes | Yes |
| Virtual Desktop Infrastructure (VDI) Enhancements | | | | | Yes | Yes |
| Windows Aero Theme | | Partial | Yes | Yes | Yes | Yes |
| Windows Anytime Upgrade | Yes | Yes | Yes | Yes | | |
| Windows Basic Theme | Yes | | Yes | Yes | Yes | Yes |
| Windows Connect Now (WCN) | Yes | Yes | Yes | Yes | Yes | Yes |
| Windows Defender | Yes | Yes | Yes | Yes | Yes | Yes |
| Windows DVD Maker | | | Yes | Yes | Yes | Yes |
| Windows Easy Transfer | Yes | Yes | Yes | Yes | Yes | Yes |
| Windows ExperienceIndex (WEI) | Yes | Yes | Yes | Yes | Yes | Yes |
| Windows Fax and Scan | Yes | Yes | Yes | Yes | Yes | Yes |
| Windows Flip | Yes | Yes | Yes | Yes | Yes | Yes |
| Windows Flip 3D | | | Yes | Yes | Yes | Yes |
| Windows Journal | | | Yes | Yes | Yes | Yes |
| Windows Firewall | Yes | Yes | Yes | Yes | Yes | Yes |
| Windows Media Center | | | Yes | Yes | Yes | Yes |
| Windows Media Player | Yes | Yes | Yes | Yes | Yes | Yes |
| Windows Media Player multimedia redirection | | | | | Yes | Yes |
| Windows Media Player Remote Media Experience | | | Yes | Yes | Yes | Yes |
| Windows Mobility Center | | Yes (No Presentation Mode) | Yes (No Presentation Mode) | Yes | Yes | Yes |
| Windows Photo Viewer | Yes | Yes | Yes | Yes | Yes | Yes |
| Windows PowerShell and ISE | Yes | Yes | Yes | Yes | Yes | Yes |
| Windows Search | Yes | Yes | Yes | Yes | Yes | Yes |
| Windows Server domain joining | | | | Yes | Yes | Yes |
| Windows SideShow | | | Yes | Yes | Yes | Yes |
| Windows Slideshow | | | Yes | Yes | Yes | Yes |
| Windows Standard Theme | | Yes | Yes | Yes | Yes | Yes |
| Windows Taskbar | Yes | Yes | Yes | Yes | Yes | Yes |
| Windows Touch | | | Yes | Yes | Yes | Yes |
| Windows Troubleshooting | Yes | Yes | Yes | Yes | Yes | Yes |
| Windows Update | Yes | Yes | Yes | Yes | Yes | Yes |
| Windows Virtual PC support | | | | Yes | Yes | Yes |
| WordPad | Yes | Yes | Yes | Yes | Yes | Yes |
| XP Mode (Windows Virtual PC) | | | | Yes | Yes | Yes |
| XPS Viewer | Yes | Yes | Yes | Yes | Yes | Yes |